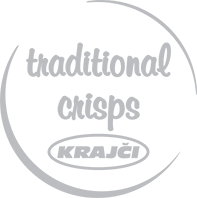 We are a family manufacturing company that has been operating on the Czech market since 1995. The main product of our production program is traditional potato crisps and salty snacks, but we also offer baker's sticks and nuts.
The whole production process takes place in our company, starting with the purchase of raw materials to the distribution to our business partners throughout the Czech Republic, in Slovakia and from 2019 also in Poland. We have been producing traditional fried potato crisps for more than 20 years. During this time, there has been a number of innovations, but it is crucial for us, despite the modernization of production, to keep the final product the same and to maintain its high and constant quality. We produce traditional potatoes crisps and we will continue to produce them.
Although potatoes crisps are made by unique modern technology, the production process remains dependent on a large proportion of manual work. When introducing innovations, it is most important for us to remember the traditional recipe and the proven technological procedures. Just so the product can keep its quality and differentiate itself from competing products.
Fried potato crisps of adequate quality have a typical aroma and golden color. They are not too greasy, but they still differ from the chips at a glance. They are brittle and crunchy on the bite. The best ones are always fresh.
After the goods leave our warehouse it is necessary to follow the instructions stated on the packaging of each product thanks to their nature. Products should be stored in dry place, out of direct sunlight.
When dealing with complains it is important to know the place of purchase and the batch number which is always stated on the packaging with the "best before" date. We are not able to detect the cause of error without this information. Our customers are our most important partners and their satisfaction is crucial to us. We are always happy to solve any issues that lead to improvement of our processes.
Franchise
Due to the increase in production capacity, we are looking for new partners for cooperation on foreign markets. It is not a classic franchise license, but rather an exclusive representation on the foreign market. For more information, see the attached PDF please. Outside the Czech Republic, you can find us in the following countries:

    Slovakia – since 2015

    Poland – franchise is available
Unfortunately, not every child is healthy… That is why we have decided to support children with oncologic health problems who need help more than anyone else. We have been supporting Endowment Fund of Pediatric Oncology KRTEK  since 2014.
Since 2018 we have been organizing together with association Běhy Zlín SAINT NICHOLAS RUN RACE WITH CYRIL FOR KRTEK to raise awareness about their activities and to be able to help children even more. All money from the race will go to Endowment Fund of Pediatric Oncology Krtek.
Contact
Krajči plus s.r.o.
Divnice 140
763 21 Slavičín, CZ
tel.: (+420) 577 132 519
Company ID: 01733443
VAT ID: CZ01733443
Data Box: ginvdq2